11.8.2020
New Album: Cello Concertos by Kapustin and Schnittke
My debut album with orchestra 'Transitions' ist released! ...featuring cello concertos No.1 op 85 by
Nikolai Kapustin
and No. 1 (1986) by Alfred Schnittke with the wonderful
Rundfunk-Sinfonieorchester Berlin (RSB)
conducted by
Frank Strobel
. I
feel honoured about the world-premiere-recording of Kapustin's concerto op. 85, which I have been occupied with ever since visiting him in Moscow. He inspired me forever and changed my perception of music. Alfred Schnittke, whom I met in the late 80s is one of the great modern classics of the 20th century. His breathtaking cello concerto reflects his near-death experience of his first stroke.
In a subtle way both works reflect transitions, in style, expression and human life.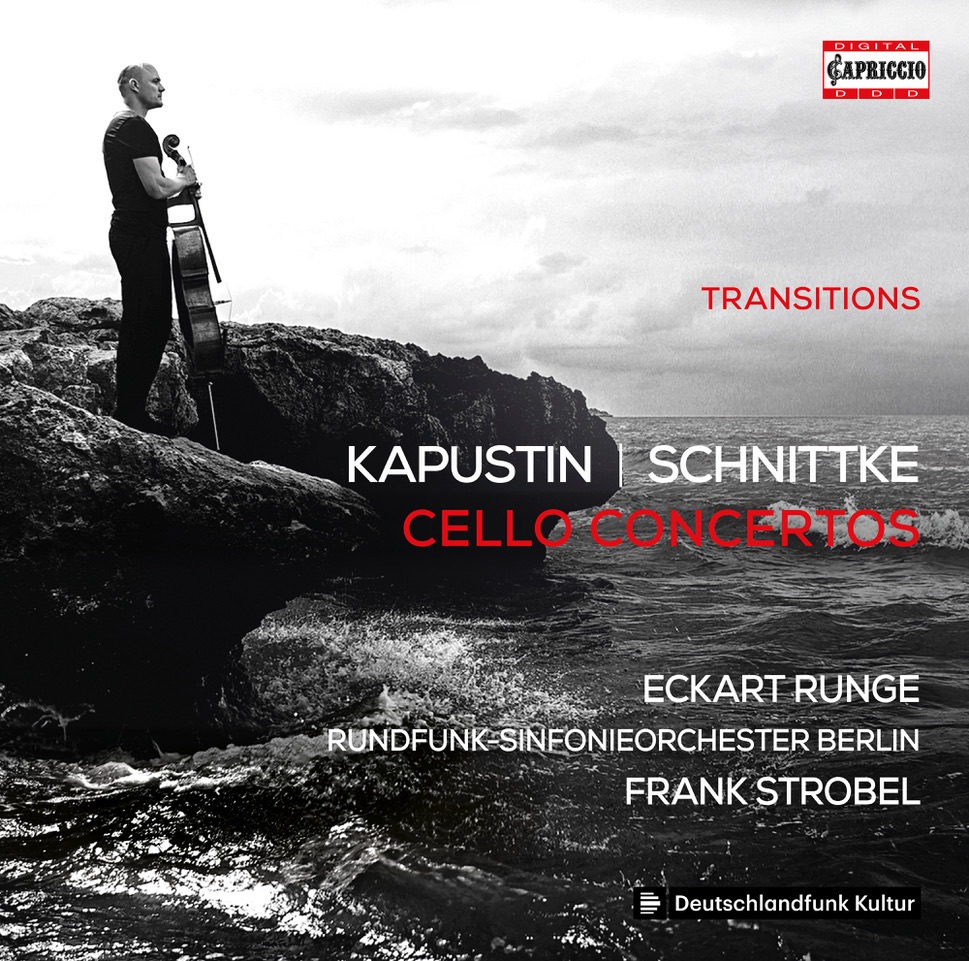 23.03.2020
Changes in Times of Corona:
After an emotional last performance for quite a while, we all need to adapt to a new situation. Artists, agencies, promoters and the audience are facing changes.
What does this mean, now that the crisis is about to hit. Having had experiences whit quite some existential crises, the appreciation of the present, is one of the things I learnt.
I spoke to Maria Ossowski about this and more, please listen to the
interview on SWR2
(in German).
20.03.2020
New PR Agency
I am happy to announce my collaboration with
Büro für Künstler - Hasko Witte GmbH
There are so many wonderful projects in the pipeline, and I am excited to have such a creative partner in communication now!
06/20/2019
EXCITING SUMMER-FESTIVAL ACTION AHEAD
Looking forward to a busy summer full of artistic encounters with wonderful old and new friends. Please join me if you are around!
13.07. Arendsee (MDR Musiksommer) / Goldberg Var. with Asya Fateyeva (Sax) and Andreas Borregaard (Akk)
14.07. Neustrelitz Paket-Zentrum / 'CelloCinema' (Version with screen) with Duo Runge&Ammon
08.08. Haus am Waldsee / 'BaroqueBlues' with Duo Runge&Ammon
10.08. Mettlach Festspiele / 'BaroqueBlues' with Duo Runge&Ammon
11.08. Mettlach Festspiele / 'Brahms op. 60 with Franziska Hölscher, Nils Mönkemeyer and William Youn
14.08. Goslar Schlosserei / 'BaroqueBlues' with Duo Runge&Ammon
15.08. SHMF Bad Oldesloe / 'BaroqueBlues' with Duo Runge&Ammon (Live Recording)
16.08. SHMF Wulfshagen / 'BaroqueBlues' with Duo Runge&Ammon
24.08. Mecklenburg-Vorpommern Musik Festival / Ulrichshusen / JazzTangoNuevo with Duo Runge&Ammon
25.08.- 01.09. Krzyzowa Music Festival with Viviane Hagner and friends
03.- 08.09. Pistoia / Music With Masters / masterlass / Quartetto di Cremona, Alfred Brendel, David Orlowsky and others
04/05/2019
New Album: Schubert Quintet
Eckart Runge teams up with the renowned Italian string quartet Quartetto di Cremona in a new album on the label Audite, featuring the famous string quintet and the quartet 'Death and the Maiden'.
Ten years after his recording with the Artemis Quartet and cellist Truls Mørk from 2009, this is his second album with this great masterwork, now as a guest on the beautiful second cello part.
03/15/2019
Last Album with the Artemis Quartet, featuring Elisabeth Leonskaja
For his final album in his large discography with the Artemis quartet Eckart Runge chose the rather intimately lyrical 5th and 7th quartets by Dimitri Shostakovich, as well as the great piano quintet. Rather late, in the third decade of the quartet's history, previously being marked by the Austro-hungarian tradition of Bartok, Ligeti and the second Viennese School, this music had become a treasured repertoire of the group. Teaming up with the legendary Russian pianist Elisabeth Leonskaja, being the only partner having played all of the ensemble's line-ups, Eckart Runge and his colleagues payed tribute to a long and intense artistic friendship.
Stream or purchase by Amazon
01/04/2019
Farewell Artemis Quartet Tour
In an international tour Eckart Runge and the Artemis line-up 2016-2019 bid farewell to their longterm audiences. Concerts took place in Berlin, Munich, Stockholm, Florenz, Naples, Brussels, Utrecht, London, Hamburg, Montreal and New York some of which concert-series had hosted the quartet regularly since 25 years.
01/08/2019
Artemis Quartet announces the successors of Anthea Kreston and Eckart Runge from June 2019
To mark the 30th anniversary of the Artemis Quartet in 2019, two new players will join the ensemble. As announced last September, founding member Eckart Runge is to leave the Artemis Quartet after the final concerts in the ensemble's current constellation in May 2019, alongside violinist Anthea Kreston. From June 2019, she will be succeeded by Suyoen Kim; Harriet Krijgh has been appointed as cellist. As with the original members Natalia Prishepenko, Heime Müller, Volker Jacobsen and Eckart Runge, the two violinists Vineta Sareika and Suyoen Kim will alternate in the first chair position.

Gregor Sigl states: "We are delighted and hugely excited to welcome Suyoen Kim and Harriet Krijgh, two wonderful musical personalities and outstanding instrumentalists, to the Artemis Quartet! As with previous changes, we now face the challenge once again of preserving the musical heritage of all previous members of the Artemis Quartet – a legacy of unconditional commitment going back more than thirty years – with our new partners. At the same time, in our common pursuit of musical excellence, we aim to challenge this legacy and expand on it."

The Artemis Quartet will perform eight concerts throughout Europe in May and June 2019, both to celebrate its 30th anniversary and also to introduce the two new members. For each concert, the first part of the programme features works for string sextet, with departing members Anthea Kreston and Eckart Runge as guests. The second part presents the quartet exclusively in its future constellation of Vineta Sareika, Suyoen Kim, Gregor Sigl and Harriet Krijgh. The first anniversary concert takes place in Bremen on May 2nd. Further performances are planned in Berlin, Munich and Vienna, as well as in Paris, and at the Schwetzingen Festival.
09/04/2018
Farewell and New Challenges
After thirty years in the Artemis Quartet and four wonderful line-ups in professional playing, the time now is right for me to move on to a new chapter in my artistic and private life. Therefore I took the decision to step back from my position as the quartet's cellist after the 2018/19 season, to pursue new artistic and personal challenges. I would like to dedicate my availability to my other cherished musical projects, as well as to my family.
The privilege to play, work and share such a long precious time of my life with so many wonderful colleagues, partners, audiences, and the greatest repertoire ever, makes me deeply grateful.

Shortly after my decision, my colleague Anthea Kreston also announced to resign as second violin.
Fortunately the Artemis Quartet, took the decision to take on this challenge and is about to regroup wonderfully, which will be announced shortly.
As the numerous previous Artemis' changes, have always proven, I am deeply convinced of another successful chapter in the quartet's history, adding new qualities and yet maintaining the ensemble's character .
I am looking very much forward to this fair-well season as well as the time to follow, hoping to seeing all, to whom I feel so attached throughout my three decades in the Artemis Quartet, very soon again!
09/01/2019
Debut in the Elbphilharmonie
Sharing the stage of the big hall with his piano partner Jacques Ammon, the emergent saxophonist Asya Fateyewa and Danish accordionist Andreas Borregaard, Eckart Runge will take part in the renowned 'Hamburg Musikfest'. Other guests at this remarkable marathon of chamber music on September 23rd include Menachem Pressler, Raphael Wallfish and Anita Lasker-Wallfish.
08/15/2019
CD recording with Quartetto di Cremona
Eckart Runge will team up with one of the most distinguished Italian string quartets in September 2018 to record the famous String Quintet in C major D.956 by Franz Schubert. The album will be released in early 2019 under the label 'Audite!'.